Statue of Lazzaro Spallanzani
The statue dedicated to Lazzaro Spallanzani was unveiled during a ceremony held on 12th November 1888, attended by the local authorities and leading national and international figures from the scientific world.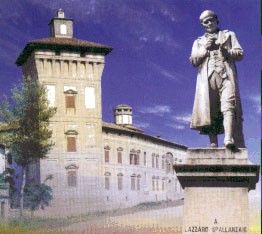 Piazza Spallanzani
42019 Scandiano

On that occasion, Piazza Maggiore was renamed after and dedicated to this illustrious scientist. The statue is made of Carrara marble, funded by a collection of donations from the citizens of Scandiano organized some years earlier by the public notary Pietro Prampolini. It depicts the scholar as he examines a frog through a magnifying glass. The main statue is the work of the sculptor Guglielmo Fornaciari from Reggio Emilia, while the frog was sculpted by Vasco Montecchi from Scandiano. The scientist in a standing position, dressed in eighteenth-century clergymen's clothes, holding a magnifying glass in his right hand while he examines the circulation in the blood vessels of a frog fixed on a small "scaffold" held in his left hand.
How to get there:Scandiano: From the A1 motorway Reggio Emilia exit, take the SS 467 ring-road towards Scandiano-Sassuolo; from Modena, take the SS 486 "Passo delle Radici" road towards Sassuolo, then at Veggia take the SS 467 road towards Scandiano-Reggio Emilia. By train: there are local trains for Scandiano-Sassuolo which leave from Reggio Emilia Station; there is also the ACT bus service.