Montalto Matildic Park
The Montalto Matildic Park is located 20 km south of Reggio Emilia, in the municipality of Vezzano sul Crostolo. It includes wooded areas, meadows, large clearings and natural lakes that represent the singularity of the area.
Address and contacts

Via Lolli, 45 - 42030 Montalto locality, Vezzano sul Crostolo

0039 0522 858432 

0039 0522 858432

info@parcomatildico.com

Parco Matildico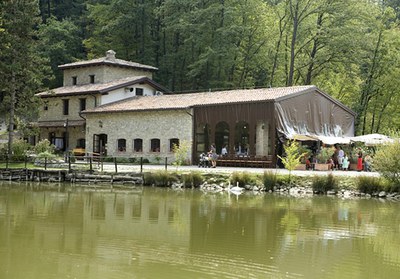 Tourist village
Equipped with every comfort for the visitors willing to spend a holiday or just a weekend in the pure nature of the park.
Opening period: from April to October
The park will be closed to the public in 2021 and will open as location for events only.
For information or events reservations

+39 335 7511537
Classification
3 Stars
Opening times
Weekdays: closed
Saturday, Sunday and holidays: open from 9.00 a.m. to 7.00 p.m.
Check-in for accommodation: from 2.00 p.m.
Check-out for accommodation: before 10.00 a.m.
The park is available for exclusive reservations.
Capacity
Prices
From € 80.00
€ 80.00 - Double room
€ 100.00 - Triple room 
€ 100.00 - Chalet
Credit cards accepted: Visa and MasterCard
Also available for clients
Self-service Bar Ca' Segoletta
Bucaneve Restaurant
Parking
Botanical vegetable garden
Museum of Agricultural Civilization
Possibility of 3-km walks
Dogs admitted with leash and muzzle
Pasture animals
How to get there
Vezzano sul Crostolo, Locality Montalto
By car
When coming from Reggio Emilia, take National Road SS63 travelling in the direction of Castelnovo ne' Monti and Passo del Cerreto.
By bus
Publit transport service bus No. 44
Services and facilities