Wooden Marquetry
Wood is one of the most used materials by pre-industrial societies. Among wood-inspired arts, cabinet-making is to be mentioned with its marquetry techniques. In Italy, Rolo-based shops have given an important drive to the creation of wooden artefacts with refined decorations in the past three centuries.
42047 Rolo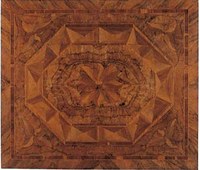 In Rolo are several shops dedicated to the production, restoration and marketing of marquetry furniture. Their brands are "tarsia di Rolo" ("Rolo marquetry") and "tarsia tradizionale di Rolo" ("Rolo traditional marquetry").
How to get there:Distance from Reggio Emilia: Km 28
Distance from Reggiolo-Rolo (Autobrennero A22) motorway exit: Km 4
from Reggio Emilia: secondary road 5 direction Novellara-Reggiolo, then take the direction Villanova-Rolo
Public transport services.