Campovolo
Campovolo is the area of the airport of Reggio Emilia, whose extension is over 195 acres.
The airport was originally a test track for the prototypes of Officine Meccaniche Reggiane, famous Italian company created in the early XX century and specialized in railway production, artillery bullets and, in the late Thirties of the last century, in fighter planes.
The main concerts that took place at Campovolo are: U2 band in September 1997 (146,000 spectators), Luciano Ligabue's concerts in September 2005 (180,000 spectators), July 2011 (110,000 spectators), September 2012 (150,000 spectators) and September 2015 (150,000 spectators).
The non-operative area of Campovolo has turned into RCF Arena, a permanent structure whose capacity is 100,000 spectators,  The project started in 2016 and will end in September 2020 with its inauguration on the occasion of the thirty years of career of Luciano Ligabue.
Project: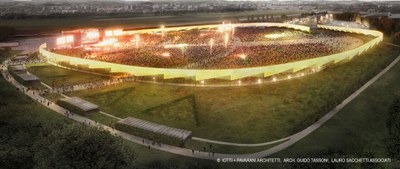 Info and Services:
Availability from May to September
Events from 10,000 to 100,000 people
5% incline
Opportunities of big events or other events
Contacts: eventi@cvolo.it / www.cvolo.it
How to reach Campovolo?
Campovolo is located in Via dell'Aeronautica, close to Reggio Emilia Airport. During the concerts, there is often availability of shuttle buses connecting it to the town centre, and of special train connections with the neighbouring cities. For detailed info, pls visit the website.
By car: at A1 motorway, the closest exit is Reggio Emilia, near the Calatrava Bridges. Then, follow the road signs to the airport.
By train: Reggio Emilia Railway Station is located along the route Milan-Bologna. Walking distance of Campovolo from the Railway Station: 2 km. Out of the Railway Station, go along Viale Ramazzini. At the roundabout, turn into Via Agosti, go straight 900 metres to the next roundabout, then turn left into Via dell'Aeronautica (Campovolo entrance). In case of arrival from Mediopadana Railway Station, go along Via Gramsci (in the direction of the town centre) and turn left into Via del Chionso (walking distance 4.5 km).
By bus: No. 10 in the direction of Seta Depot and/or No. 11 in the direction of Gavassa. For info about timetables and prices click here. "Eventi in Bus" organizes buses from all over Italy for the concerts at Campovolo. For info click here.