Bianello LIPU Oasis
Bianello LIPU Oasis is a wildlife fauna protection area located in the locality Borgo di Monticelli, near Quattro Castella, and expands on the four Quattro Castella Hills (Zane, Lucio, Vetro, Bianello) for about 190 hectares, including the area called "of the gullies", that was included by the Province of Reggio Emilia in the protected area in 2003.
Via Risorgimento, 17 - 42020 Quattro Castella
Contacts

0039 349 7116057 (Luca Artoni)


l.artoni@libero.it


Centro visita
Opening times
Monday-Friday free entrance - tour upon reservation
Saturday 09:00 a.m. - 06:00 p.m.
Sunday 09:00 a.m. - 06:00 p.m.

To keep fit
Four steps in the Bianello Oasis
The Oasis of Bianello is located immediately behind Quattro Castella and is a wonderful example of the environment of the lower Emilian Apennines, with heights around 300 metres. The Oasis is equipped with a visitor centre with a projection room, information material and services. In order to visit the Oasis it is possible to take two paths: the first, through the oak forest, allows you to get to the Bianello Castle (open to the public, see the timetables!); the second, starting from the visitor centre, leads to the Colle Zagno and Colle Lucio (Zagno Hill and Lucio Hill). During the year various events are organized, such as the release of birds of prey, the observation of marine fossils, the cleaning and installation of nest boxes, and so on.
Map of the paths of the Bianello Park: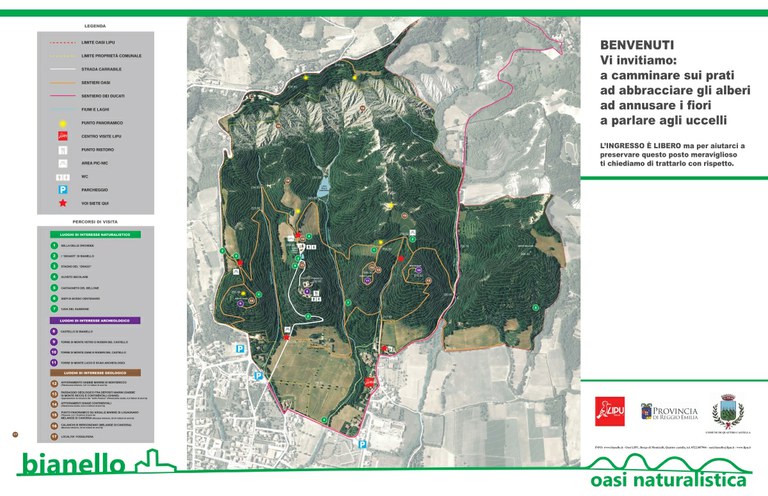 How to get there
Located in the hills of the Province of Reggio Emilia, its distance is about 17 km from Reggio Emilia. The Province Road 21, which runs through the entire territory and passes through the village of Puianello in the direction of San Polo d'Enza, divides the hill region from the plains. Suburban Seta public transport service No. 48.